Nathalie Dewalhens was born in Belgium in the swinging sixties but left her tiny country in 2003 when she decided to quit the rat race and thus her job in the music industry. She first lived on an island in the Mediterranean before starting to settle in the shadow of the Cévennes mountains. In 2012 she moved to Berlin (Germany) where her two children still live and thrive. Ten years later she thought it was time to settle in Andalucia, Spain. 
She's a Vermilion Morning Social Host, organised online and in real life Sensual Salons (with Alison Pilling) and Neo Tantric Talks and last but not least: she's a licensed Jamie Catto Bring It Insanely Gifted teacher .
She truly believes the world would be a more compassionate place if there was more sensuality in the world. 
Highly influenced by the Stoics, Trungpa Rinpoche, Henry Miller, Lou Salomé, Pema Chodron, Nietzsche, Esther Perel, Darwin, Frans de Waal amongst others,  which partly explains her no woo woo  approach and some elements of crazy wisdom. She's a vegan sentientist and believes in the values of EffectiveAltruïsm. She likes flamenco, tango and tequila, mango and Pablo Neruda. Not necessarily in that order.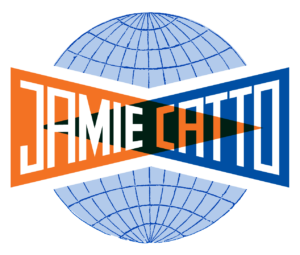 As a writer I'm particularly interested in condition humaine and thus in the childhood traumas that partially shape who we become and behave as an adult. 
As an intimacy coach I want to help people to connect authentically with themselves and the world.  
I like to take them on a journey to a place where they feel safer and closer to their core.  
Neo Tantric Talks on Thursdays
During the dark winter months, Nathalie will regularly host a group of curious souls to gather together safely around the fire of her house (exact address will be send out to the participants) to talk about things that warm their hearts.
Every evening will have a theme and there will be guest lectures you really don't want to miss.
Our very first talk happened on the 3rd of November and was all about *sensuality* in the broad sense of the word.
The second talk will be around vulnerability. What is it for you? How does it show? Does it show at all? Do you think it's a weakness or a strength?
Max 9 participants so please reserve your place by being a ticket here:
https://www.eventbrite.co.uk/…/neotantric-talks-on…
Price 12 Euro/night: drinks and veggie tapas are included.
Un abrazo,
Nathalie
Location: Lecrin Valley, Spain.
6 pm  Introductions
6:45. Talk by Nathalie or guest on the theme
7:00 Open discussion and possible authentic relating prompts
8:00 Closing circle
Themes of the talks
(always on the first Thursday of the month)
November:  Sensuality
December:  Vulnerability
January:     Authenticity
February:   Embodiment
March:        Spirituality
April:          Sexuality
Tantric Talks on Thursday are an opportunity to talk openly about intimate matters. The Talks are not therapy although they can be therapeutic .
Looking forward meeting you!
2023 dates
5th of January (neo)Tantric Talk on Thursday "Authenticity" Granada
6th of January Poetry performance @TeaTimeHappening with Lala Ema (private) Granada
8th of January Poetry performance @TeaTimeHappening with Lala Ema Granada
16th of January Sensual Salon with Alison Pilling Online
3rd of February (neo)Tantric Talk on Thursday "Embodiment" Granada
7th of February Sensual Salon Live with Alison Pilling Manchester
9th of February. Bazar Bizarre with The Fenwitch Manchester
2nd of March (neo)Tantric Talk on Thursday "Spirituality" Granada
13h of April (neo)Tantric Talk on Thursday "Conscious Sexuality Granada
20th of April Transformational Workshop Online
June tbd Transformational Workshop Online
July tbd Transformational Workshop Online
August tbd Transformational Workshop Online
1-6th of September Sensual Renaissance. Spain. BOOKINGS ARE OPEN! Click on this link for more info/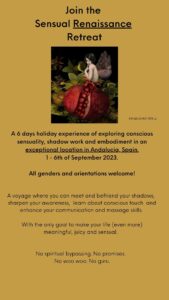 1/1 online coaching sessions for men
Transformational & funky workshops
Transforming your inner critic into a funky, sexy ally. (3 hours or 1 day)
– Who are the DJ's in my head and is God a DJ? (2 hours)
– What are my shadows teaching me? 
– Initiation into embodiment (3 hours)
– Own your shit. Taking responsibility for one's life. (3 days, can be split up)
– Intimacy workshop: First date game, How to talk about big wounds between men/women/ X (1 day, can be split up in 2 parts)
– Let's talk about sex, baby (3 hours)
– Drama got talent (3 hours)
– Bad breakups go to court (1 day)
– Embrace your intimate triggers and put them on a pedestal (1 day)
​
Combinations are possible, please contact me. 
Articles on film and eco-travelling different Belgian magazines (Feeling etc.)
 Poem "zoenen" in VERZAMELBUNDEL 27ste POËZIEPRIJS BOONTJE 2022
500 Hidden Secrets of Berlin (Luster Publishers)
Your Body, my Poem (self published).     2019
Short story 'Alicia' in SEPIA (1 illustrator/34 writers)
Killing for love: theatre play (Dutch/English)
Berlin Bar Stories: novel (English)
Collection of erotic poetry (Dutch & English) –  part 2.