"If a poet falls in love with you, you can never die."
Machig de Valence lives, loves and works  in Berlin since 2012. The wild and sex positive side of the city took her in a direction she would never have dreamt of in her former lives.  She likes to speak of her work as "Tantric Poetry" because of the simple fact that tantra uses the power of desire to find that particular flow in life without being focused on pure pleasure seeking. Machig tries to find this sometimes transcendent flow by being absolutely honest and thus vulnerable. That does mean she is not afraid of the often hidden and darker side of love and sex which comes to light in some poems featured  in her very first book of erotic poetry and photographs. "Your body, my poem" was born out of  the visceral need of Machig to bring some kinky heartfelt sexuality in contemporary poetry. The pictures in the book are often raw photographs. Shot on smartphone, they are a honest temoignage of Machigs own erotic journey. They are also an open invitation to a different world. What the reader reads and sees is his or her own voyage.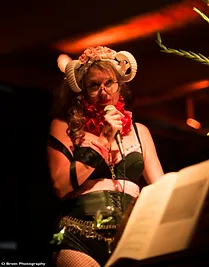 Machig strongly believes that we live in an oversexualized but undertouched society. She choose poetry as her medium to bring the message. Because poetry can be like sex; at its best it can be transcendent, and transformational. It is a way to get into your voice, into your body, into your soul, and  this adds without any doubt to the greater good.  That's why Machig loves to perform.  Because poetry is only alive as long as somebody reads it out aloud. As long as it touches the womb and the heart of people. So if you want to spice up an event, hear heartfelt kinky words whisper straight into your ears,  need a person who rages against the new puritanism in society, get in contact with her. 
​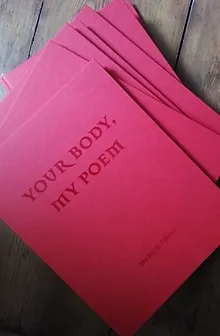 "Your body, my poem" came out of the visceral need of Machig to bring some conscious kinky sexuality in contemporary poetry. The book consists of 20 poems, some short quotations, some thoughts on sex in this society and 25 pictures. These often raw photographs don't pretend to be arty, pornographic or even plain beautiful. They are more like a temoignage of Machigs own erotic journey. The pictures are taken with her mobile phone (Huawei)  and are absolutely random: a story of different rooms and lovers in 2018 and early 2019. Sometimes it's just a view, sometimes just an object, mostly it is a non recognizable body part. By showing them and placing them near a particular poem, she wants to sharing her bedtime stories albeit it is the viewer who has the final say and who will make up his own story. 
"Your book is one to which I will return many times – to experience its richness in many personal moods and through changes in my life. There is great beauty here, dark as well as light, there is joy and celebration – and much consideration of paths and persons."